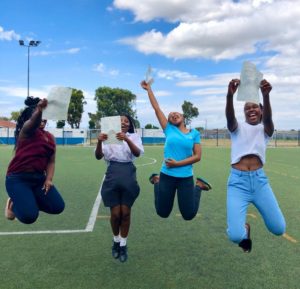 We are excited to announce that our 2019 Matric class had a pass rate of 86% across the five provinces we work in. Not only did 86% of learners pass, 47% of the 2019 matric cohort achieved bachelor's passes, unlocking access to study at university.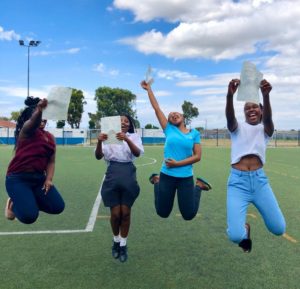 We are proud that over the past 17 years Ikamvanites have maintained a pass rate above 80%. We believe in the power of after school programmes. With challenges of teacher-learner ratios in township schools, many learners leave the classroom without a basic understanding of concepts. IkamvaYouth's after-school tutoring model has filled in that gap. In the past year, over 2,500 learners received tutoring at our 17 branches.
The national numbers have also been encouraging this year, and we congratulate the Department of Basic Education for the improved matric results across the country. It is great news that none of the 72 districts recorded a pass rate lower than 60%. The national average is a record-breaking 81.3%, shattering the 80% mark for the first time since 1994.
As we celebrate IkamvaYouth and the national pass rates, it is important to remember that there are still challenges facing the education system. A microscopic look into the celebrated national statistics reveals many blockages facing, especially, no-fee paying schools where IkamvaYouth's branches are situated. One of the biggest challenges is dropouts. Dr Nic Spuall said in a Daily Maverick article: 'Of 100 learners that started school, 52 made it to matric in 2019 and 42 passed and 19 qualified to go to university'. This means 62% of the learners that started Grade 8 in 2015 dropped out along the way and are unaccounted for in the 81.3% pass rate.
In a quote penned by Western Cape Member of Parliament Nomsa Marchesi, she says "the real pass rate is 38.9%". With this in mind, we cannot stress enough the importance of investing in education if we are to make systematic changes in our beloved country
To put this into perspective, our branch in Diepsloot achieved a pass rate of 97% and tertiary eligibility of 83%. Comparatively, while the provincial average might have been 87.2% for Gauteng, zooming into townships reveals a different picture. Many children are pushed out at grade 11 and those that stay are not fully supported to achieve results that allow them access to post-school opportunities. In Gugulethu, for example, one of the schools where most of our learners come from achieved a 41% matric pass.
Our work therefore is to ensure learners are supported to stay in school, sit for their final exams, pass and access post school opportunities. Our branch in Ikageng show cased their commitment to uplifting communities through education by achieving a 98% pass rate with tertiary eligibility of 88%, securing the top spot across all 17 IkamvaYouth branches.
Our Gauteng and North West District Manager, Maria Sikaundi had this to say about the impact of the programme in these communities: "The matric class of 2019 did us proud, we are grateful to have been a part of their educational journey. These results are a true reflection of their resilience and dedication to their studies. We look forward to continued collaboration and support with our partners, volunteers and mentors to deepen our impact in the communities we serve".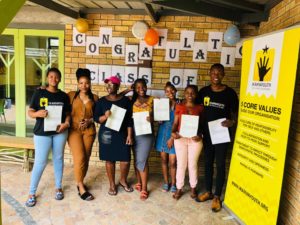 In the Western Cape, despite the stark disparities between the lower and higher quintile schools, IkamvaYouth branches performed well, achieving a 78% average pass. The top branches were Nyanga with an 85% matric pass, and Kuyasa with a stellar 95% pass rate.
The Atlantis Branch in the Special Economic Zone where we have partnered with Green Cape and GrandSlots, saw a 79% pass rate and 63% of the learners being eligible for tertiary. The branch had to overcome a myriad of challenges since its opening in 2016, and remains determined to see the learners in Atlantis break the cycle of poverty through education. Many of the past year's matric learners in the branch have come back to tutor and support the current grades, which greatly assists as the branch is away from many colleges and struggles to find tutors.
Victoria from Atlantis branch had this to say "Since 2017, through IkamvaYouth I received all the support I need. Not only academically but also the emotional support I needed to be focused and achieve. Now I have a Bachelors pass and I am going to study B.Com Financial Accounting at the University of the Western Cape"
The school where our Gugulethu branch is based had one of the lowest pass rates in the Metro Central with only two schools below it. Against all odds, the IkamvaYouth branch learners did well. A learner from the school still in her excitement shared only this "I am so happy with my results and this year I, am going to be studying Mechanical Engineering at CPUT". Zenande, Gugulethu Branch
It is stories like these that spur us to continue to impact many young learners in the country.
Chesterville and Umlazi branches in KwaZulu Natal had an average of 83% matric pass. An interview with one of the learners reveals the true impact of the programme.
"I joined the organisation in 2015. I was able to adjust and get to know more about the program. I was able to open up with the tutors and share my challenges. I received the support at IY and the tutors always pushed me to practice at home as well. This was the best remedy especially in subjects like mathematics. Now I'm preparing for my new journey at Nelson Mandela University," Nosihle, Umlazi, Bachelor pass with three distinctions
With many thanks to our partners in the Eastern Cape, a province that has year on year produced low national pass rates, our Joza branch achieved a 70% matric pass. We are grateful to the dedicated team of tutors who took their time to come and pay-it-forward helping learners. A special mention goes to Rhodes University, for providing transportation for their students to come to the branch for tutoring sessions.
Our branches during the last term of the year assisted matric learners with applying for learnerships, college, university applications and other post-school opportunities. With the results out, we are proud to report that our Chesterville, Ebony Park, Kuyasa, Mahikeng, Ivory Park and Diepsloot branches all got over 50% bachelor passes and we wish all our matriculants well as they prepare to start different post-school vocations.
IkamvaYouth's CEO, Hope Chidawanyika, had this to say about the results: "IkamvaYouth supplements the hard work being done in the schools in South Africa, by providing homework help, a safe place to go after school, and individual attention. These are small things with enormous impact on matric pass rates and future incomes. Thanks to the support of all our partners, we have been able to ensure that the learners, who join our branches, take flight!"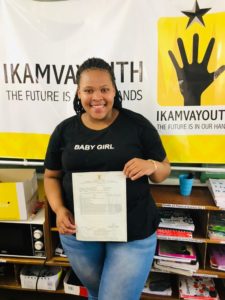 IkamvaYouth's work would not be possible without the commitment of our tutors, funders and supporters. We would also like to thank our biggest donors for 2019: Coca Cola Beverages of South Africa, Estee Lauder Charitable Foundation, The ELMA Foundation, Capitec Foundation, Maria Marina Foundation, Cargill and many others.