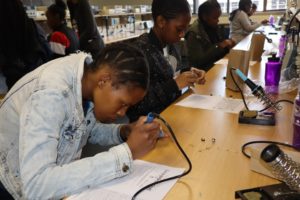 As we begin 2020, a year that promises to produce great stories of success, growth, and resilience, we reflect on 2019.
We started the year by celebrating with the class of 2018 on their matric passes. Close to 500 learners were enrolled, and the cohort achieved an 81% matric pass rate, with a 68% tertiary eligibility. A highlight was our Diepsloot branch, which achieved a stellar 100% pass rate and an impressive 94% tertiary eligibility!
During the year, our after school programme impacted over 3000, grade 8 – 12 learners in KZN, Gauteng, Eastern Cape, North West, and Western Cape. Throughout the 5 provinces we operate, staff, volunteers, mentors, and parents worked collaboratively to ensure the improvement of the academic performance of our learners.
Winter school was held across our branches all over South Africa, where extensive tutoring sessions and workshops were conducted. Additionally, the students went on educational excursions, supported by our donors and partners.
In 2019, we welcomed six new board members to IkamvaYouth's non-executive board, who brought with them the expertise needed to carry the strategic goals of the organisation forward.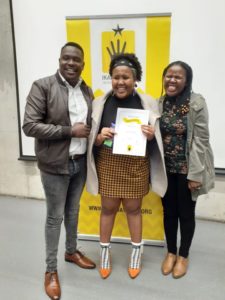 Without the work of our volunteer tutors, our work would have been impossible. At the end of the year, we held tutor Appreciation celebrations in two of our regions. Over 200 volunteers gathered to celebrate the invaluable work they do for young people, and for IkamvaYouth to say Thank You!
We kept in touch with our alumni, who throughout the year shared their graduation celebrations. Alumni graduations are a reminder for us how the work we do now has long term positive impact, as the young graduates are able to contribute to the economy and also support their families as they get into the job market.
A young change agent, Nwabisa Ngumbela cycled 633km through South Korea, raising funds for the organisation. She reached her fundraising goal and exceeded her target. Thank you Nwabisa for your selfless sacrifice and may you continue to pay it forward.
Without supporters like Nwabisa, and many of the individuals, corporates, trusts, foundations and NGO partners, our programmes would not be as impactful. We thank you, and may you continue to be part of the solution to South Africa's education system.
In two days, the wait will be over for the class of 2019 as their matric results will be published. They are already champions and we wish them the best for their future endeavours as they pursue the different post-school opportunities, and of course, returning as volunteer tutors.
We are excited about the year ahead, a year of continued sustainable growth, higher impact and success for our learners and alumni, and we continue to lay the foundations for future growth.
A happy 2020 and beyond to you all!