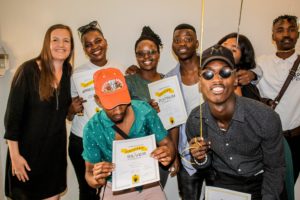 Finally, we have reached the last academic term of the year and after all the hard work from our learners, volunteers and staff, this is a very special time designated to celebrate the commitment and the value of paying-it-forward demonstrated by our volunteers!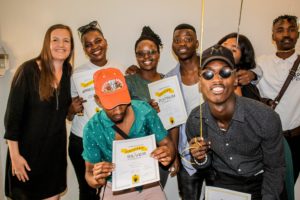 Our Western Cape region recently held its tutor appreciation event and what an honour it was to have all our regional volunteers in one place and shining the light on the amazing work and impact they have achieved this year – which certainly doesn't go unnoticed. Scores of over 130  volunteers were in attendance and even our Executive Director, Lungile had the pleasure of meeting these amazing and talented tutors, who are the heart of IkamvaYouth!
"I am honoured to lead a vibrant army of young people who are banging the drum of change; one maths question at a time! Our army of tutors give their time voluntarily  – as one of our volunteers said recently: 'we need to build each other up in order to move forward as one'", she said.
At IkamvaYouth, we love and value our volunteers, whose commitment makes our programme sustainable. Every year our volunteer support saves the organisation over R6m. Our volunteers, many of whom are previous learners, who have transformed from beneficiaries to benefactors have been trained to be able to deliver an effective tutoring programme which ensures that our learners succeed academically.
Throughout this year, tutors worked in small groups and provided academic support to our learners who brought in work that they are struggling with to the tutoring sessions. IkamvaYouth's volunteer tutors, certainly play a much more bigger role than just tutoring; as they deal with students from similar and different backgrounds. They build strong, personal relationships with each learner and this is always visible at tutoring sessions.
Sharing about the support received from tutors, Grade 10 learner, Lesedi said: "I've been struggling with Maths and Physical Science and Daniel helped me to understand the concepts and now I am doing very well in the two subjects. He went an extra mile for me by scheduling extra classes outside of tutoring sessions. He is a great source of motivation, he always encourages me to be the best that I can be and not allow my circumstance determine my future. He is a good role model, because he is striving to do good even when times are tough!"
At the event, certificates were awarded a few of the many exceptional tutors who generously donate their time. Their high level of commitment and engagement that contributes to the success of our vision and mission was illuminated in their high spirits.  The awardees included: Inganathi from our Nyanga branch, who took home the highest tutor attendance award; while Marilee from our Atlantis branch and Thembisile also from Nyanga, received long service awards. The top achiever of the evening was Doctor –  who tutors at the Kuyasa Branch, he was crowned the best tutor, this award was voted for by learners and other tutors.
Asked how he felt about this achievement, Doctor said the following:
"Firstly, I'd like to clarify that we as tutors are all equal and no one is doing a better job than the other. Receiving the best tutor award for me shows how much you are appreciated and valued both by learners and tutors, it means those extra miles we go are noticed and that is a motivation to me to continue paying it forward!"
Without your support and that of our volunteers, we would not have had the opportunity to assist over 2,000 learners at the 17 IkamvaYouth branches, to reach their academic goals and get into post-school institutions – ensuring more young people are set on the path to earning a dignified living.
Thank you for your continued support!