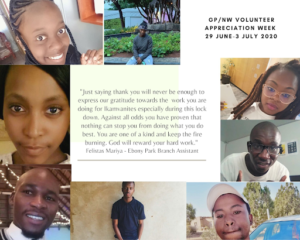 Debbie Weir said, "There is no 'I' in team''; but we sure are glad there is 'u' in volunteers! Maintaining close relationships with volunteers is critical to any volunteer-driven organisation's success. The IkamvaYouth Gauteng and North West branches understand the importance of volunteerism and embarked on a journey to appreciate the outstanding work of our volunteers during the COVID-19 pandemic. Since the national lockdown started, our team has been working tirelessly with our volunteers to ensure our learners keep busy and are supported with their academics.
In true IkamvaYouth culture, volunteers' work and commitment are celebrated yearly in different forms, as we witnessed in the 2019 Gauteng Gala and North West Masquerade ceremonies. This year things took on a different turn, due to uncertainty regarding when lockdown restrictions will end Online tutoring became our new normal. This sparked an idea from our District Manager to celebrate the work of our regional volunteers by arranging volunteer online appreciation week themed "suffocate them with love". We dedicated an entire week acknowledging the region's volunteers through sharing pictures, quotations, and spotlight articles that gave us a glimpse into the lives of our superheroes and "sheroes".
All weekend long, followers of IkamvaYouth social media platforms were kept in suspense, wondering what the big hype was about as we began the countdown to the launch. The day finally arrived; Monday 29 June and we got the ball rolling from the first hour of the day. The 'Gauteng and North West Tutor Appreciation Week' announcement was made in style, on WhatsApp, Facebook, Instagram, and Twitter. It included a sweet introductory message of the week's event from the region's District Manager, Maria, and a picture collage with all our tutors' faces on it.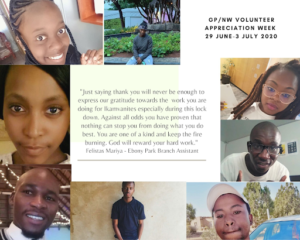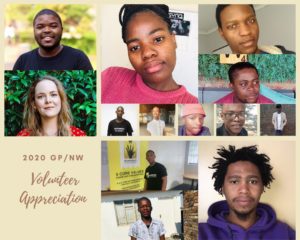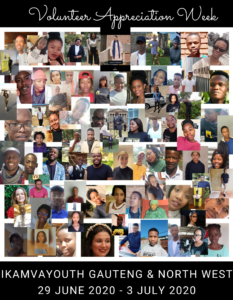 Ever wondered why people volunteer? What it is like to tutor high school learners? Well, wonder no more! Our spotlight interviews gave you access to six awesome volunteers, namely Keletso (Mamelodi branch), Mzwanele (Ebony Park branch), Rebaone (Ikageng branch), Gopolang (Mahikeng Branch), Sarah (Ivory Park Branch) and Thabo (Diepsloot branch). The articles were structured in a "getting to know me" feel where we got to venture into their daily lives, aspirations, interests, and volunteering experiences at our branches.  A fun fact from Mzwa's interview, when asked if he were to be president for a day what would he do differently and his response was "Being president for a day can never be enough for me to change the country or implement anything, but I would enjoy my day in office with a cup of coffee, calling everyone I know, letting them know I'm head of state!"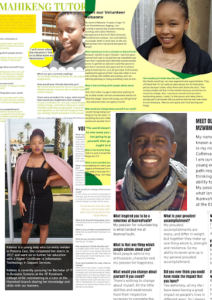 Some of our tutors had this to say about the week:
"Being appreciated is always a very good feeling for one's self-confidence. Seeing that you are noticed and recognised for the good things that you do for others is very pleasing. I think choosing social media to display gratitude is exactly how I wanted to be appreciated for a long time. So I feel very much honoured to be appreciated for a long time and on social media in fact."
Odirile, Mahikeng tutor
"Honestly speaking, I am very happy, it is really a great feeling being appreciated where everyone can see. It actually gave me a sense of satisfaction, and I was able to realise that my time and efforts I spend with the learners mean a lot and that motivated me to work harder in assisting the learners. This is one of the best experiences I ever had." 
Gopolang, Mahikeng tutor 
"Volunteer appreciation week made me feel very proud to be an IkamvaYouth volunteer – it was lovely to read some stories of fellow volunteers and tutors that I haven't interacted with, as well as some words of thanks from learners. It made me feel very appreciated, to confirm the large difference that the WhatsApp tutoring is making for the learners during lockdown; which I am so glad to be a part of."
Laura, Ivory Park tutor
"It's been an exciting week for me, both North West and Gauteng branches came up with a brilliant idea that was able to reach us as volunteers. I feel motivated that our work as tutors is valued, even during these difficult times our branches have been able to show how much they value our work. Thank you for taking a week to appreciate us."
Strongman, Ebony Park tutor
As we wrapped up volunteer appreciation week, we would like to say thank you for sacrificing your time, to assist the youth in our communities. Our Programmes Manager, Patrick had this to say;  
"In every crisis or disaster situation, it calls for real nation builders to come forward and put their lives in the line to avert the impact of the crisis on humanity!! You are such nation builders! You have, like Tata Mandela forsaken your own comfort and have poured yourselves for the sake of the many Ikamvanites whose situation has been made more bearable because of your tutoring support. To us, you are nation builders, making history through your sacrifices! We thank you!!"