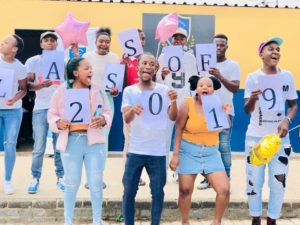 IkamvaYouth provides support to other NGOs who provide after-school support to high school learners. This Community Collaboration Programme (CCP) is currently supporting 17 organisations. 
It is always an exciting time when we reflect on the work that organisations in the CCP have achieved. Earlier in the year, we celebrated our partners collectively achieving an impressive 89% pass for the 2019 class of matrics. Now they have taken it a step further supporting the 293 learners to secure post-school opportunities. We are happy to report on an amazing achievement of 70% placements, with learners enrolled in tertiary, learnerships, and employment. 
The matric learners' university eligibility and placement on various post-school opportunities are one of our key indicators in measuring the success of the programmes organisations offer.
Placements are an integral component as they create a clear pathway for learners to earn a dignified living within five years of completing matric. The overarching aim of this programme is to support learners to be self-sustaining individuals positively impacting their lives and those of their families, ultimately eliminating poverty.  
Alumni from one of our partner organisations, Phakamani Young Minds Academy(PYMA), Zulfa Hansuana shared her experience with PYMA. "I am currently studying at Nelson Mandela University, enrolled in Public Relations. PYMA has helped me to be aware of application processes and procedures. Given the circumstances and environment we are exposed to, students like me don't have enough information and are not knowledgeable about tertiary applications. Through PYMA I was able to apply at a tertiary institution and for Nsfas, this was a dream come true for me and my family since they are my supportive structure. I will forever be thankful to PYMA for all their tireless support and motivation, I don't think I could've done it all by myself."
One of the significant aspects of this collaboration is the creation of a platform for partners to share best practices in implementing the IkamvaYouth model to its fullest potential and continuous learning as we grow the after-school sector. 
 We are proud of all the organisations in CCP and look forward to supporting you all in the years ahead as we learn and grow from each other.