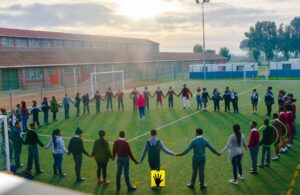 Dear Friends,
The end of 2020 marks my first complete year at IkamvaYouth. I would not have anticipated a global pandemic that could have brought IkamvaYouth to its knees! In today's times leadership requires vulnerability and not bravado. It required our leadership team to be smart and honest, and take decisions that are in the long-term interests of the orgnaisation. In this complex environment we have had to constantly learn and adapt. We have made sure that we understand our limitations and have had the courage to create sincere connections with others in a way that builds an inclusive and progressive team. I was deeply humbled by the agility of the IkamvaYouth team, the support we received from different stakeholders, which immensely helped us to be dynamic, but also stay true to our values and goals.
It is really a coincidence that our organisation turns 17 this year, and at 17 many young learners across the country write their final matric exams. As I reflected on the significance of braving it through the pandemic I was drawn to the journey of our matriculants as they go through their final year. I reflected on the many workshops we facilitate for our Matrics on resilience, discipline, grit, planning, and scheduling studying time, and the importance of peer-to-peer support.  All these lessons are lessons that, as we went through our own Matriculation year, we had to put to practice.
Our programmes rely on face-to-face tutoring, however, as soon as the lockdown was announced, our staff shifted gears and we quickly pivoted our programmes online to ensure we continued to support over 2 600 of our learners throughout the lockdown. No easy task!! To our programme staff, M&E, and all administrative staff that support the work, I thank you for your resilience and your true commitment to our work.
Central to our work is our team of volunteers, many of whom are university students who had to deal with the many changes demanded by the lockdown. The many lessons that you impart on the learners, you also put into practice. Lessons of discipline and grit. Thank you for consistently showing up in the WhatsApp tutoring groups and supporting our learners who are taking the same journey you once took.
An important support team to our work is our board. I joined the organisation on the clasp of concluding our three-year strategic plan. With insightful questions and thorough oversight of our work, we managed to conclude the three-year plan and cascaded it to our team goals. Your commitment to IkamvaYouth continues to contribute towards our organisational stability as we braved through all the shifts and challenges brought about by the pandemic. Thank you.
Many of our donors were severely impacted by the pandemic as operations had to stop for weeks and months on end due to the lockdown. However, our donors pledged their continued support for us at a time when their commitment was crucial to the continuation of our work. Many set aside COVID-19 response funds, which we benefited from. We purchased internet data for our learners, which comes at such a high cost. We purchased cell phones for the Grade 12s to ensure they all had access to academic support even when schools were closed. Without you, our work would not be possible. We thank you for investing in our work and seeing its value.
While 2020 was a challenging year, many opportunities have emerged from this crisis. Through shifting our programmes, we have managed to fully adopt a blended learning approach for 2021. We have also embarked on a thinking process of Re-Imagining the IkamvaYouth Model. While our model has yielded great results over the years, the pandemic has also triggered us to think of new ways to further incorporate digital skills to enhance our work. Out of this, we anticipate even greater impact and broader reach creating opportunities for further scaling our work.
Today is the last day of operations for 2020, and as we close our doors for the year to take some time to rest over the holidays, I am full of gratitude. Gratitude for the great lessons we learnt helping to propel us to the future. Gratitude for having an opportunity to see ourselves at our best as a team, gratitude to the friends and supporters who saw us through this year.
Just one more thing, as you go on your holidays, if you are not already, please consider joining our community of donors. Now more than ever, we need your support. Next year, we will open our doors in January to 2,600 learners across the country who in 2021 need our support now more than ever. Please sign up as a monthly donor via our Given Gain page or donate via the SnapScan code on our website. 
Thank you, and I wish you a restful holiday and may 2021 bring new exciting opportunities for you.
Kindest regards,
Hope