By Bongiwe Nkambule
This year, the Ivory Park branch hosted yet another successful winter school programme that commenced on the 3rd of July until the 14th of July. The programme started off with an opening ceremony attended by tutors, learners, branch staff as well as other IkamvaYouth staff from the Gauteng team. Over 45 Tutors and approximately 165 learners were then grouped using a colour system with the purpose of sharing tasks and ensuring that there is order.

Our programme included a minimum of 40 hours of tutoring, afternoon fun activities and educational workshops, talent show preparations, winter school tournament/sports day as well as academic games such as trivia and general knowledge.

We managed to get through our winter school programme accordingly and in line with the schedule. What worked really well was the condition of the venue, registration of tutors and learners before the commencement of sessions, name tags, colour coding, as well as the tutor team tasks schedule.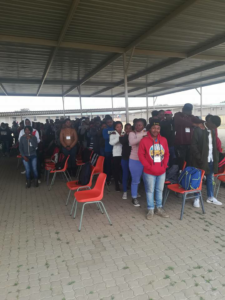 Learners and Tutors during the Opening Ceremony
Tutoring
Before the start of tutoring sessions, registration and ice-breakers were the culture of the Ivory Park branch whereby tutors and learners would get name tags and proceed to the assembly for an ice breaker. Tutoring sessions began at 09:30 am each day with fundamental subjects such as Mathematics and English being the main focus and then followed by all the other general subjects (Accounting, Geography, History, etc.).
Workshops
During the first week, Lovelife and The Unleashed Woman hosted workshops for our tutors and learners. These workshops took place in the afternoon on Thursday the 6th of July in which Unleashed Woman conducted a tutor session with our tutors while the Lovelife ground breakers had our learners participate in fun activities. During the second week, SADAG explored ways for young people to escape the negative binds of drug abuse with our grade 9s. Our Grade 11 learners also attended a three-day Capitec Financial Training conducted by the Diepsloot fellows Zikhona and Thabo. Sonke Gender Justice hosted a workshop for our male learners and tutors on the 11th of July to empower them, as the branch focus during the first half of this year had been mainly on female empowerment.
At the end of the first week, learners and tutors participated in the winter school tournament/sports day. Indigenous games like hopscotch, uMgusha,donkey and skipping rope were played.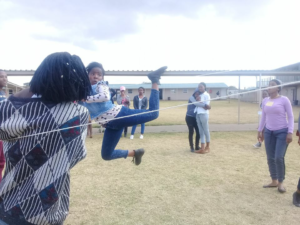 On the last day of winter school, the tutors and learners showcased their talents from the choir, dancing and singing, modelling, poetry and rap as well drama. Tutors were handed certificates as a token of appreciation from the Ivory Park branch for availing themselves during the winter school and committing to the programme.