We have laid a solid foundation towards the greatness to come at end of 2018
The Ikageng branch hosted its two annual flagship events, the 2018 Winter School (WS) took place from 25th to 29th of June, followed by the Matric Week camp on from the 9th to 14th July. The tutoring for these events mainly focused on challenging subjects such as mathematics, physical sciences, accounting, etc. This was to present learners with vital opportunities to get a better understanding of what they did not understand at school during the first half of the year. We would like to take this opportunity to thank our amazing volunteer tutors who demonstrated passion and dedication in helping our committed learners, diligently, throughout the process.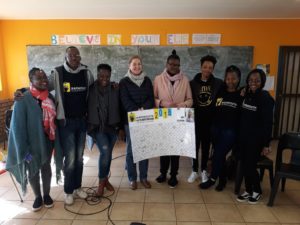 Below are some of the fantastic events hosted at the branch:
Pre-Winter School Tutor Training

– making sure all our tutors were equipped with important tutoring skills before the commencement of these two big events.

The Current Grade 11's Matric Induction –

workshop for grade 11 learners on the prerequisites for tertiary enrolment and application procedures.

Matric Applications Day –

our grade 12 learners were hosted by the team of their mentors from North-West University to proceed with their post-matric applications, bursary and learnership research.   

Talent Show

–

a platform for the Ikamvanites to showcase their respective talents.

Learner of the month

– The award winner is selected based on good attendance and courteousness.

Tutor Appreciation Barbecue
Joy Olivier

our Executive Director

(ED) visited our branch to bid farewell and getting to know in person our new ED Lungile Zakwe.
Below is what some learners and tutors had to say about their Winter School and Matric Week experience
"I enjoyed mostly being a tutor because last year I was a learner"
"I loved the tutoring sessions because they helped me a lot and want to do more in my studies"
"We had excellent tutors and mentors who made the matric week journey a wonderful one!!"
Thank you CCBSA for your continuous support in assisting us to provide quality programmes for our learners so that they may be able to have a bright future.