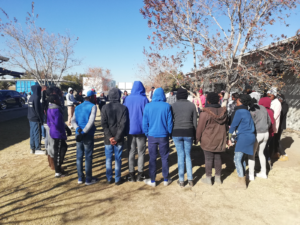 From 2-6 July 2018, the IkamvaYouth Diepsloot branch hosted its first winter school programme. The week was successfully led by branch coordinator Sakhile Dubazana along with a group of tutors and other branch staff members who all showed great enthusiasm throughout the entire week-long programme.
The winter school programme kicked off with tutor training on Saturday 30th June. This was an opportunity for the tutors to engage with each other through a series of activities that focused on how they can make this week the most effective for the learners.
From Monday 2nd of July, we welcomed learners from different High schools around Diepsloot, who despite the winter cold were very eager and excited to be part of the programme to learn and prosper.
Each day, the learners started their day with a social activity while having tea and that was followed by quick icebreakers that are very fundamental into building social connections. The icebreakers were also an opportunity for the learners to bonds with the tutors.
During the course of the winter school programme, the tutors were hands-on in all the subjects that they were assisting with. All the learners from grades 10-12 were engaged in the work that they were doing and their curiosity was really evidence of their willingness to learn and engage with the content. The mathematics learners also took part in a math Olympiad.
The winter school programme also included a career expo day. We invited different experts in different fields to come and address the learners in a session that was very informative and valuable to all learners, particularly the matriculants preparing for their post-matric life next year.  
On the last day, we had a thought-provoking debate session which was facilitated by the English tutors. Learners were really engaged in the various discussions that emerged as they debated about issues that affect the youth on a daily basis. Finally, we closed off the week with a talent show and the learners showcased the potential that they have outside the classroom environment.
The following week was focused on the matriculants, helping them complete their online University applications. As part of the process, the learners participated in the regional Gauteng Matric Applications day at the University of Johannesburg. This day involved a career guidance and mentoring session, led by one of the lectures on how can students effectively prepare themselves for University and what to expect when they have finally made it there. Thereafter, the learners were given access to a computer lab and were assisted with tertiary applications. The day ended with a campus tour.  
Massive gratitude to the Mamelodi team; Neo, Tokelo, and Obakeng (tutor); Lerato from Ivory Park and Masego (Ebony Park tutor), whom after their own week-long winter school came to support our branch. Siyabulela! We experienced real teamwork, collaboration, and peer-to-peer support.
TESTIMONIALS
Xolani Nkosi Diepsloot branch intern
"Winter school for me was a delightful and an insightful experience. I am saying that because I was very impressed with the commitment and dedication to hard work that the students portrayed throughout the entire week. It was evidence of their eagerness to achieve more and be better people in their communities. For my own self-enrichment I was thankful enough that I also learnt a lot from the students as well. More in particular, the debate session we hosted where the students were speakers made me realise a lot about certain topics that concern us as the youth of today. Overall, winter school was a great success and each and every day you could see growth within the environment both in numbers and the mindset of the students."  
2

. Karabelo Mosupeng (grade 10 Diepsloot Combined)
"Winter school was great for me because i spent my holidays studying and having fun with people who wanted to learn and do better with their lives. We had a lot of tutors coming in and helping us with our term1 and term2 work, we also touched on term 3 things. We also did things like group work outside, where I had to work with people I had not talked to before, we played 30 seconds against the tutors, I was also one of the speakers during a debate. We were told about different careers that we didn't know like biochemistry and the importance of having entrepreneurial skills. What I loved the most was the talent show, it was my first time singing in front of people. I had a lot of fun during the winter school and learnt a lot. I cannot wait for our second winter school."