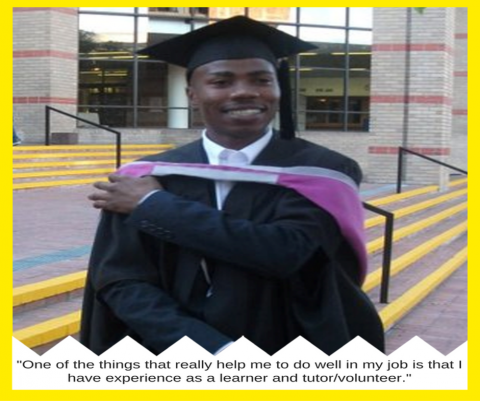 Since 2003, IkamvaYouth has over 1000 learners complete their matric. Our alumni are encouraged to continue to be involved in the organisation as tutors and mentors, and can even see themselves working for the organisation as interns/full time staff members, or even serving on the board!
Zukile Keswa (Zuks), joined the organisation as a grade 11 learner in 2004. During his tertiary studies, he came back to IkamvaYouth to serve as a volunteer tutor. Zuks was the first alumn to become an IkamvaYouth staff member in 2011, starting as the Makhaza Branch Assistant. Since then, he's held a number of roles in the organisation, and is now the Gugs Comp Branch Coordinator.
This year, we've had the pleasure of welcoming quite a few of our alumni back to IkamvaYouth as staff members. One such alumn, is Phelela Mokwana, who matriculated in 2008. Here's what she had to say about her new role in the organisation:
"I was once a learner at Ikamva during my high school days from 2006-2008. I'm now working as a B.A for Makhaza branch. My experience working at Ikamva is amazing. I've started working during winter school 2016, It just reminded me of the days when I was a student, seeing learners engaging themselves in the the tutoring space and the commitment of tutors has just reminded me of why I came back to work for Ikamva.
Through the journey of being in and out of companies has just made me discover my potential which is
working in empowering young minds, helping them to achieve good results, helping them to become positive role model in their communities and have a dignified living."
Phillip Mcelu, who matriculated back in 2006, just joined the team this month. This is what he had to say about coming back to IkamvaYouth:
"I am happy to have found my way back to the IY family, as I am an alumnus from the Makhaza class of 2006! I've been working in the ICT industry for the last 5 years and am excited to be starting as the Tech Coordinator for IY. I'm looking forward to building a national network and sharing my ICT knowledge with my IY family."
Below are the alumni that joined the IkamvaYouth body of staff this year:
And now… IkamvaYouth is seeking an alum to be a board member of the organisation. The successful alumni will learn a great deal about what it takes to run an organisation.
Level of Commitment required:
The Board requires a commitment of four board meetings a year (lasting approximately 2 hours) as well as prepare for the board meetings which will take approximately 2-3 hours.

There may be other ad hoc events that the board member will be required to attend.

The successful alum will not get paid for his or her time but will be making a meaningful contribution to the running of IkamvaYouth.
Areas of expertise sought (any of the following):
HR

Sustainability

Leadership

Fundraising

Finance

Passion or interest in the education of disadvantaged youth
Serving on the board of IkamvaYouth is a wonderful, enriching experience, especially for someone early in their career. Aside from the joy of working for a public good, it can broaden your experience and skills, which might help you find your next job. For more details of what being a board member entails, please click HERE, where you'll find our constitution.
If you would like to nominate any alumn for this position, please click HERE.