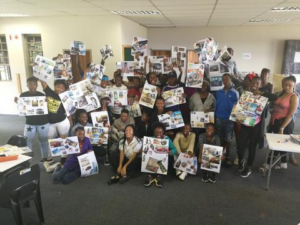 Fresh, Fun and forward thinking
On the 10th of March 2018 the IkamvaYouth Diepsloot branch held its first leadership workshop, facilitated by the founder of Bhekizenzo Foundation Mrs Phindile Ndlovu. Bhekizenzo Foundation works with government and other organisations to empower township and rural youth. The Foundation provides leadership, self-development and job preparedness workshops. Keeping with one of IkamvaYouths' value of collaboration the Diepsloot branch saw the Bhekizenzo foundation as ideal for its career guidance sessions.
The workshop had a good attendance as learners from all the feeder schools in and around Diepsloot made a showing. The participation was also encouraging as learners seemed to have questions and eager to share their goals. All the activities that were partaken in were a step towards helping learners create their vision boards. These were collages designed to help learners envision the future they want to have.
Diepsloot learners Neo and Sivikele were one of the few learners who had the opportunity to present their vision boards. These learners stood out as they did not fail to mention how education would impact their dreams/visions. The IkamvaYouth vision is to change lives through education, tutors and staff alike were more than impressed to see learners share in our vision. We as the IkamvaYouth team can only hope that these leaners also share in one of our core values of paying it forward.
In the feedback part of the session, the learners thanked the facilitator for making time to engage with them through the workshop. It is always encouraging when efforts made by a tutor, mentor, facilitator or staff member are appreciated by the learners. IkamvaYouth has made a commitment to make an impact and when we see our work being appreciated we feel that this core value is achieved.