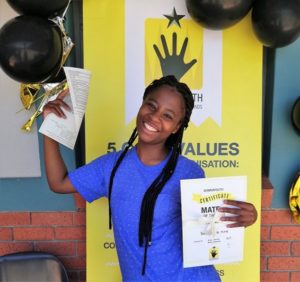 In its 16th year of operation IkamvaYouth is proud to announce an 82% matric pass rate, with a 69.3% tertiary eligibility for its class of 2018. This is a great achievement compared to averages of the schools these learners attend, which sits at 76% matric pass rate with 58% learners eligible for tertiary. Close to 500 learners who were enrolled in the IkamvaYouth matric class of 2018, wrote their final examinations across five provinces in South Africa!
Every year, IkamvaYouth learners' results far exceed those of their feeder schools and township averages, as the reality of the Basic Education system in South Africa remains that 50% of learners don't make it to matric.
The Gauteng region led this year's pack of achievers with a combined 89% pass rate. Established in 2017, our Diepsloot branch, hosted its inaugural matric cohort. The branch has achieved a stellar 100% pass rate with a whopping 94% tertiary eligibility (65% bachelor and 29% diploma passes)!
This success comes despite the many challenges the Diepsloot community faces. In Diepsloot (similar to many townships in the country) there is a clear need for the IkamvaYouth programme. Comparative studies reflect the disparity between education accessed by privileged white learners in suburbs and those in townships. There are great differences in performance and for most learners in the township, reaching matric is an accomplishment.
Maria Masonganye, who attended IkamvaYouth's Diepsloot branch obtained a Bachelor pass and intends to study at the acclaimed Wits University this year. Maria joined IkamvaYouth while doing Grade 11, she said, "The programme made me realise that working hard pays off and isn't a waste of my time. I am glad that I joined IkamvaYouth, because it resulted in my marks improving. I learnt that with an education I can do anything I want to do, that nothing is impossible for me. You can change the world with education!"
IkamvaYouth in Joza township, Makhanda in the Eastern Cape achieved a whopping 82% pass rate, far surpassing the provincial average of 71%. IkamvaYouth's Western Cape region scored a 79% matric pass rate, with the Kuyasa branch boasting the highest number of distinction passes obtained – totalling 28! Our KZN and North West regions respectively achieved 79% and 77% pass rates.
One of IkamvaYouth's top achievers Lwando Melamane is from the Masiphumelele branch in the Western Cape. He achieved an aggregate of 82.3% with distinctions in Mathematics, IsiXhosa, Life Sciences, Physical Science, Life Orientation, Geography.
Lwando, together with his brother were raised by a single mother, who worked in retail for over 18 years. Committed to his education he has had to overcome many hurdles that come with living in an informal settlement, along with the realisation that he is short sighted. He joined the IkamvaYouth programme, after hearing about it from a friend during his Grade 11 year. He said: "IkamvaYouth provided me with time, space, assistance and a proper studying environment. My mother's shack was too congested for effective studying."
We look forward to seeing many of these high achievers making a mark in the next chapter of their lives!
Twelve organisations, which were part of IkamvaYouth's Community Collaboration programme, (IkamvaYouth's social franchise which is aimed to create a sector of effective afterschool programmes, implementing the IkamvaYouth model) provided support to over 200 matrics in 2018 and have achieved an exceptional 91% matric pass rate, with 58% bachelor passes and 21% diploma passes.
We are very pleased to share that three of these implementing partners; Bokomoso Education Trust, Mamelodi Initiative and Boys and Girls Club – Protea Glen have achieved a 100% matric pass rate!
Executive Director at IkamvaYouth Lungile Zakwe said: "We are proud of the great effort that has been put in by our learners and tutors and the incredible results speak to our focus on impact. Many young lives have been positively changed through their academic achievements."
IkamvaYouth relies on the support of many committed volunteers to implement its high impact programme. Sipho Dlamini, a tutor in Diepsloot said he has found IkamvaYouth to be a great platform to express oneself. "I love seeing people progress in life and want to do to more unto others. It takes a village to raise a child and I am a part of this village!"
IkamvaYouth's work would not be possible without the commitment of our tutors, funders and supporters! Thank you so much!
We would also like to send a big shout out to our biggest donors for 2018: Coca Cola Beverages South Africa, Omidyar Network, Estee Lauder Charitable Foundation, The ELMA Foundation, Capitec Foundation, Cargill and many others.