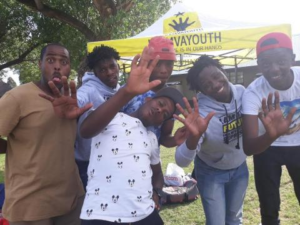 Based on our 2016 matric pass rate of 85%, the benchmark for our matric cohort is now set to achieve above this record.
Ikageng's 2016 matric results recorded a whopping 85% pass rate.  To sustain the branch's positive matric results momentum, since the beginning of the year, the branch has been striving to Paying It Forward by hosting a number of career guidance sessions, matric induction into tertiary applications and placement information, mentoring sessions, and stress relief workshops for our current matric cohort.
Exam Preparation
During this term, our tutors have been available for the learners throughout the week from Monday to Saturday assisting them to review all school content covered from the beginning of the year, also in answering previous exam question papers. We then rewarded our tutors with a Tutor Appreciation trip to Potch Dam for a celebration of their hard work.
This induction workshop introduced our current grade 11s to life-into-matric in 2018. The induction process included the pass requirements for each of these levels (Higher Certificate, Diploma and Bachelor); the prerequisites for tertiary enrolment, NBTs and many more.  Furthermore during the session, learners were taught to calculate for themselves their matric pass type using mock academic reports so they could be aware of their term 3 pass status.
Facilitated by our volunteer, Thenjiwe Gazi, the branch hosted a Subject Selection workshop for Grade 9s. The workshop included psychometric assessment of personality, aptitude and interests. Followed by an online written report of the results, recommendations and individual feedback sessions. The learners were also made aware of the impact that their subject choice may have on future career prospects.
Mentorship
Our Mentors from SALT Lunching with our 2017 Matrics
When the final exams for matrics officially began, our mentors from SALT organisation lunched with our matriculants offering psychosocial support. The session focused on the importance of a balanced mental and emotional state for building resilience during exam times, to ascertain that stress and anxiety do not derail the efforts of our current Grade 12's. We are thankful that our learners gave positive feedback of the session.
Building Strengthening Relationship with the DoE
The branch continually strengthens relationship with the Bokone Bophirima Department of Education and Sports Development. On the 25th November, we are greatly honoured by the attendance of the DoE official Mr Tyatya who shared words of wisdom particularly to the matriculants for their final examinations. Also on the 20th October, DoE cordially invited both the Ikageng and Mahikeng branches to the launch of the Tsetsepela Morutwana campaign and the Annual Provincial Prayer for 2017 in support of learners as they write their final examinations. IkamvaYouth delivered  the Candle Lighting speech. On the next day, we were also invited to the celebration of 2017 (Provincial) National Teaching Awards of winners proceeding to the National awards in 2018.
We closed the year by hosting the 2017 Career Expo where all high school learners in Potchefstroom from different grade levels (9, 10, 11 & 12s) were invited, including parents, IY alumni and volunteers. The aim of our Career Expo is to reach all age demographics targeting high school learners in making informed decisions in selection of career paths at an early stage, with early applications at tertiary and bursary institutions, and creating awareness of more career options available at their disposal. The Expo featured a variety of exhibitors and presentation as follows; Cocacola Beverages South Africa; FAMSA; South African Police Services; Rosebank College; Vuselela College; ABSA; Virgin Active; Music Arts & Sports; JHB Culinary & Pastry School; Girls Ignite Africa; Centurion Academy; Herald Newspaper and many more…
We are committed to building partnerships with multifaceted stakeholders in improving our learner's academic achievements, and making the tertiary/post-matric placements possible. We hope all participants will consider joining us again in celebrating our Matric Results Day hosted at our branch on the 20th January 2018.