Who are we?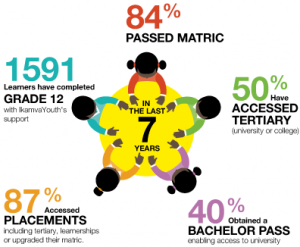 IkamvaYouth is a township-based volunteer programme that gets learners out of poverty through education. The organisation exists to reduce inequality in South Africa, and its track record of matric results, access to post-school opportunities, and alumni success is proof that positive change is possible.
Who we are looking for?
The organisation is seeking to recruit non-executive members to serve in a voluntary capacity on IkamvaYouth's Board & Subcommittees and to be custodians of IkamvaYouth's work, impact, sustainability and values by actively participating in the organisation's governance and leadership. As part of the board, you will provide strategic direction to IkamvaYouth by adopting strategic plans; determining policy and processes; ensuring the integrity of IkamvaYouth's risk management and internal controls; monitoring operational performance and management. Directors must ensure that they have the time to devote to properly carry out their responsibilities and duties to IkamvaYouth.
Your responsibilities and duties:
Annually revising and approving, in consultation with the Executive Management Team IkamvaYouth's strategic objectives for the year ahead.
Monitoring progress of IkamvaYouth towards achieving the objectives of IkamvaYouth's current strategic planning.
Monitoring the activities of the Executive Director and executive to ensure that the operational policies are being followed in accordance with the constitution.
Engaging in decision making around policies that have a financial implication for the IkamvaYouth and expenditure to ensure that the constitution is being adhered to in the implementation of the activities of IkamvaYouth.
Sitting on one of the Board Sub-committees; Human Resources and Governance Committee (HRGC) or Audit, Risk and Sustainability Committee (ARSC).
Marketing IkamvaYouth to potential donors.
Exercising leadership, enterprise, integrity and judgement in directing IkamvaYouth so as to achieve continuing impact and sustainability for IkamvaYouth.
Exercising the utmost good faith, honesty and integrity in all their dealings with or on behalf of the IkamvaYouth
Acting independently of any outside fetter or instruction.
Being prepared and able, where necessary, to express disagreement with colleagues on the Board including the Chairperson and the Executive Director
Time requirements:
The board meets four (4) times per year for 3 hours; at least once every three (3) months and at the written request of any two members of the Board.
The subcommittees also meet four (4) times per year for 2 hours; at least once every three (3) months and a written request.
A minimum of 2.5 hours to prepare for each meeting by reading and engaging with the meeting pack.
The quorum of a meeting shall be two-thirds of the Board. This may be made up of Board members present in person, or virtually or electronically present, and/or who
vote electronically.
How to apply:
To apply, please send a statement of interest/motivation and your detailed CV to Amanda Luyenge: amanda@ikamvayouth.org . For any other enquiries, please contact Amanda Luyenge on 021 820 7444.
To know more about IkamvaYouth visit : www.ikamvayouth.org
Application deadline: 29 March 2019