Building a sector of effective after school programmes together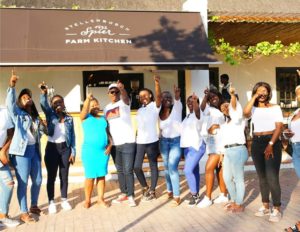 Cindy Mkaza-Siboto(in blue), Emagqabini Education Academy co-founder, with her class of 2018  learners celebrate an 83% matric pass rate.
IkamvaYouth's Community Collaboration Programme (CCP) partners have achieved an exceptional 90.4% matric pass rate, with 59% bachelor passes and 22% diploma passes (81% tertiary eligibility). Twelve organisations in the Western Cape and Gauteng provided academic and extracurricular support to over 200 matrics in 2018. The motto "achieving against all odds" has been embodied by the changemakers in the after-school sector, in efforts to assist youth to reach their greatest potential. Without a doubt, this is exactly what the partners in the CCP lived up to!
We are very pleased to share that three of our implementing partners Bokomoso Education Trust, Mamelodi Initiative and Boys and Girls Club – Protea Glen have achieved a 100% matric pass rate!
Speaking about the programme's support Nonhlanhla Rambuda, from Boys and Girls Club – Protea Glen said:  "I joined in 2017, it has helped me so much in improving my marks also having adults who care about you and our academics was so much of motivation. I wouldn't have done it without the tutors. I passed with Bachelor degree admission. Now my plan is to go to Culinary School and become a chef."
During an event hosted to honour the bright stars from the class of 2018, Bokang Mokoena, Director of Phakamani Young Minds Academy, quoting Ellen Degeneres he urged the youth: "Follow your passion, stay true to yourself, never follow someone else's path unless you're in the woods and you're lost and you see a path then, by all means, you should follow that."
Busiswa Dayimani, IkamvaYouth's Community Collaboration Coordinator, said, "I am proud of the growth and impact that the organisations are making in the lives of the youth in the communities. The Community Collaboration Programme has been a success in creating a space for organisations to support each other and cross-sharing skills in running effective programmes to deliver quality to the youth and mentoring the newer organisations. We look forward to supporting our class of matriculants to find opportunities that will see them living a dignified living."  
In collaboration with The Learning Trust (TLT), IkamvaYouth established the CCP in 2014. The programme provides training, support and space for peer-to-peer learning to social entrepreneurs running tutoring programmes. Out of 14 organisations supported in 2018, 12 had grade 12 learners enrolled, namely; Beautiful Gates, Sozo Foundation, Just Grace, Emagqabini, Boys and Girls club Pimville and Protea Glen, Phakamani Young Minds Academy, Bokamoso Education Trust, Refilwe, Yakha Ikusasa Manje, Mamelodi Initiative and The Assist. In 2019 IkamvaYouth will be working with 18 partner organisations across Gauteng and Western Cape.
Nonceba Mtwana, National Coordinator for The learning Trust was equally thrilled by the success of the CCP partnership, she said: "We have seen value in the combination of both programmatic and organisational support for embryonic community-based organisations. These organisations fill a real need in our communities where learners are faced with multi social challenges that limit their academic success. The trajectory of success in these organisations has been impressive".
A big thank you to all our supporter and partners, who continue to make it their responsibility to transform the lives of many marginalised youth, through equipping them with quality education!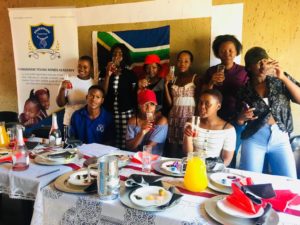 Phakamani Young Minds Team with the 2018 matric learners celebrating the success of the learners achieving 88% pass rate.