Ikageng set a goal to continually improve our results and maintain positive momentum throughout the year!
Ikamvanites Visiting the CCBSA's Devland Manufacturing Plant
Throughout the second term of the year, learners have been partaking in our intensive and hand-on tutoring sessions, various recreational activities and excursions. It has already been great to see learners working together in groups – imagine 165 learners, a number of 37 volunteers and 4 IY staff members all working together!
Ikamvanites at the CCBSA plant
CCBSA Experience and Career Day Coca Cola Beverages South Africa hosted our Grade 11 Ikamvanites for a career fair and job shadowing excursion at their Devland Manufacturing Plant site on Monday 29 May 2017. Learners rotated through the various work stations of the manufacturing facilities and saw first-hand how advanced the Coca Cola production process is. CCBSA staff members shared their experiences and showcased how manufacturing today holds opportunities for advancement and success in a variety of careers. The exhibition was not only enjoyed by learners, it extended to our volunteers and staff too.
NWU Open day
On the 6th of May, the Grade 12 Ikageng learners attended the North West University's Open Day. University staff and students gave talks throughout the day highlighting future career possibilities that await the learners. There was also an opportunity for the learners to find out about other areas of the University including sports, global learning and other student support facilities.
Matric Week activities
The branch ran a Matric Week programme from the 3rd to the 8th April. It's was full week cycle of comprehensive tutoring and support delivered to a total number of 35 learners from our current matric cohort. We worked with a number of 12 tutor that were elected during the Branch Community to deliver three hours of quality tutoring sessions every day from 9h00am to 1h00pm, followed by a number of various educational workshops every afternoon delivered by various IY stakeholders.
The workshops included the Anti-Drug Campaign, Environmental Education facilitated by North West Parks & Tourism Board; Reading Book Club workshop, a trip to the North West University department of Science for a tour and presentation. On Thursday, the Career Guidance Specialist, Anne-Marie Stanisavljevic, delivered an online career guidance workshop to our learners to help guide their choices and decisions after grade 12. The week ended with the learners online tertiary applications.
The branch is working extremely hard to maintain its history of good matric pass rates.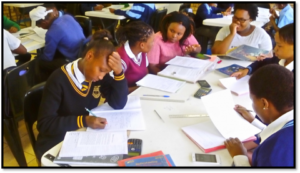 Our Tutors and Learners Hard at work during our Matric Week
Future Engineers Attending The #GirlEngineering Workshop
On the 22 of April, the WomEng afforded our learners an opportunity attends the #AskanEng workshop hosted in Johannesburg, at SciBono premises in Newtown. A total number of 12 Ikamvanites girls attended the session, we selected three learners from each grade (Grade 9, 10,11 and 12) according to their academic excellence and their expressed interest in Mathematics and Science. This workshop introduced the exciting world of engineering as a career option for girls and discussions on the importance of maths and science at an early age.
We received positive feedback from girls that attended; most of learners say, "I Never Knew That Engineering Had So Many Opportunities" and "I Never Knew This Was a Career Option For Me".
Computer Literacy Programme
On the 12th of April, the staff members and two volunteers (Molebogeng and Shawn) received Computer4Kids, enabling us to efficiently deliver the computer literacy for our learners across all grades.
The objective is to have all the Ikageng registered learners to be gain crucial computer literacy skills and enable them to have better access to information.
The lessons ran smoothly and well received by our learners.
My Future My Career
My Future My Career is an amazing imitative that is driven by Primestars Marketing and Shine Solutions, the objective of this initiative is to expose learners to career opportunities in a fun way (movie screening). Our learners were granted the most amazing opportunity of being part of "My Future My Career", they learnt so much and had fun.
Mentor/Mentee day
Our mentors have shown interest and are very enthusiastic about the programme. They have been very supportive in that they planned a Mentor day with our Grade 12 learners and helped them with Tertiary applications.
Printer Donation and parents meeting
After experiencing "Paper jams" and "misfeeds", one of our Ikamvanite parents donated a printer to the Branch.
We look forward to many educational, exciting and memorable moments throughout the year!