IkamvaYouth Class of 2021 Placements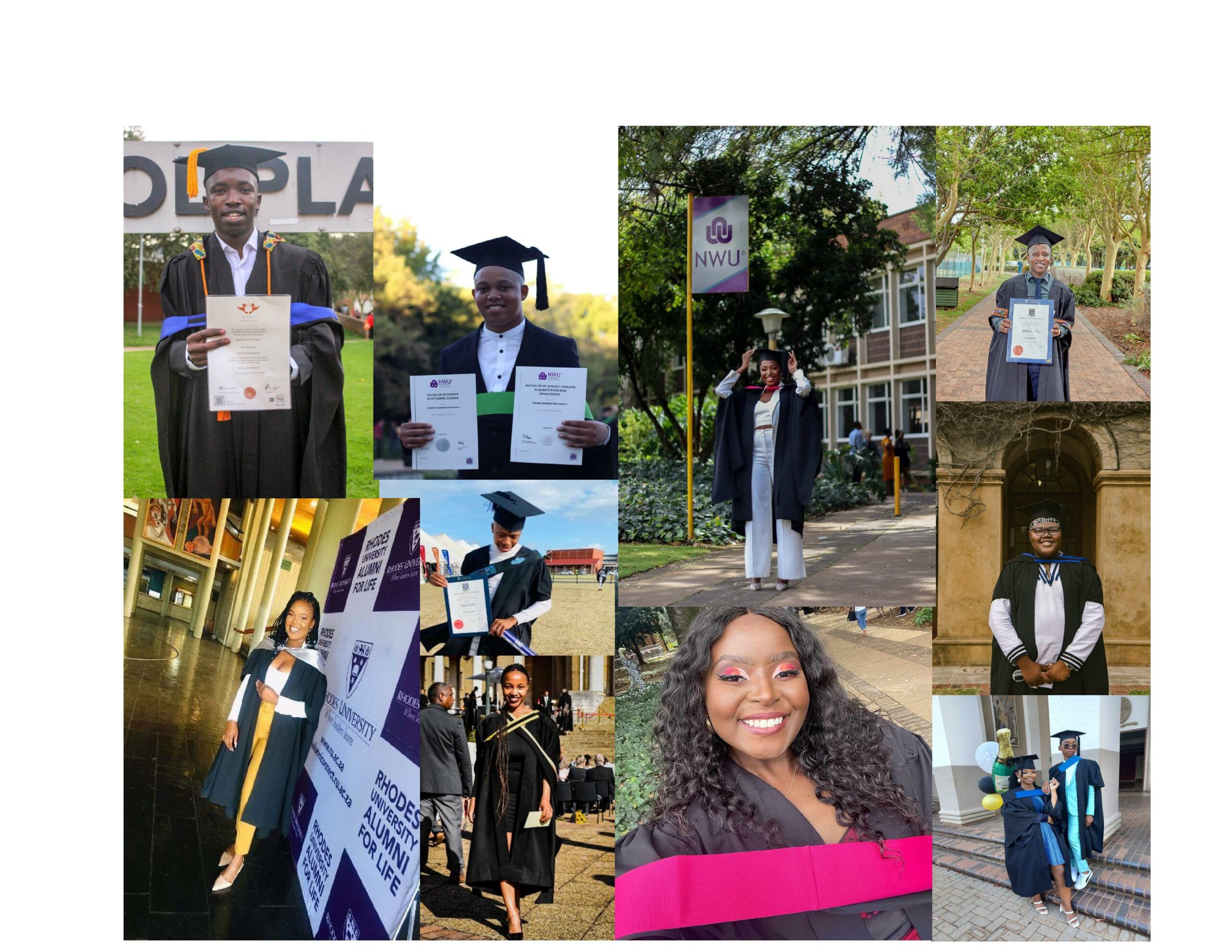 The class of 2021 portrayed great resilience by achieving an outstanding 90% pass rate. This is after two years of disrupted schooling due to the COVID 19 pandemic. IkamvaYouth not only supports learners to pass matric but to also access post-school opportunities such as tertiary education, learnership and employment opportunities. 
IkamvaYouth is proud to announce a placement rate of 89% with 45% of learners having been placed into tertiary, 11% pursuing higher certificates and short courses, and 10% in jobs and learnerships. 23% are improving their matric results through supplementing and upgrading. 11% of our learners are currently Not in Education, Employment and Training (NEET).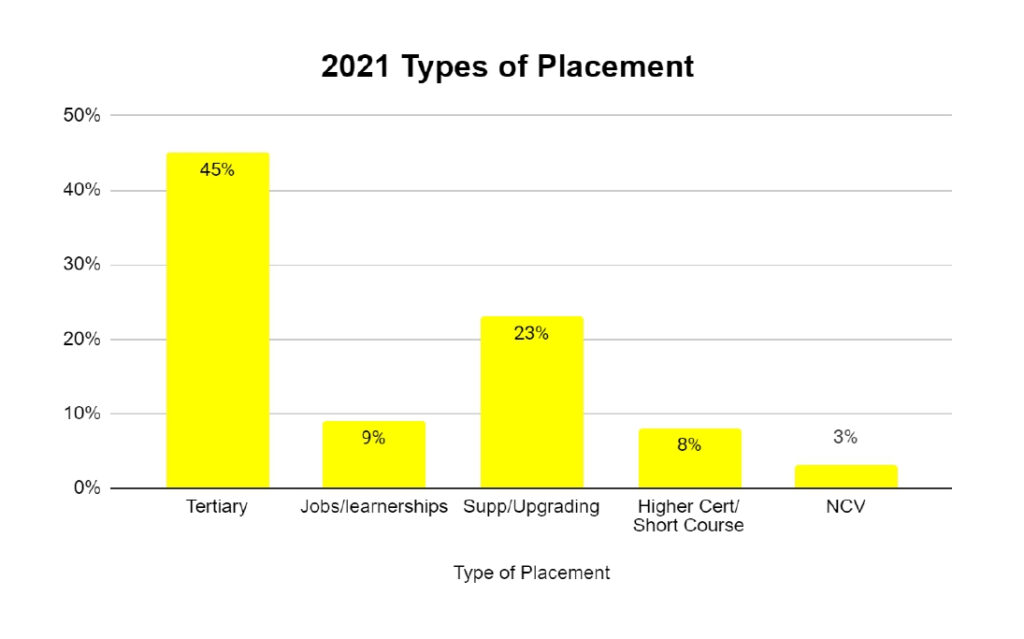 A total of 242 learners secured places in traditional universities across the country such as University of Cape Town, University of KwaZulu Natal, Rhodes University, University of Johannesburg and the North West University. It is encouraging to see the number of learners getting access to traditional universities in comparison to previous years.
Ikamvanites are enrolled in a wide range of courses, including Humanities & Social Sciences, Business, Administration & Management, Education, as well as Science & Engineering. The diversity of career streams taken by the learners is encouraging, and it makes us proud to be supporting the learners to access these respective career choices. The branch staff and mentors play a vital role in exposing learners to different career options.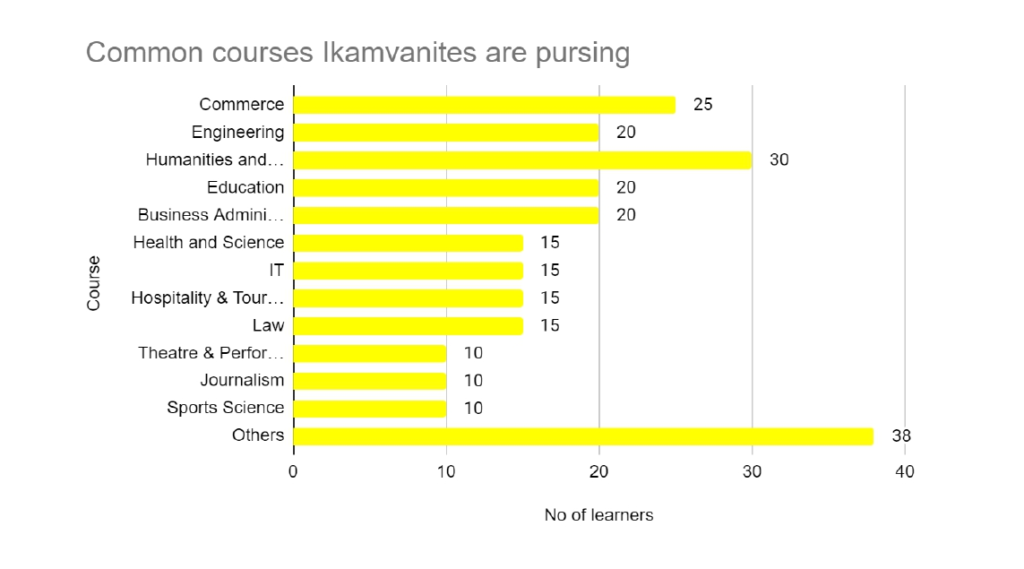 It is important to have partnerships with various organisations so that our learners who do not go tertiary have a variety of options to choose from in order to advance themselves. IkamvaYouth has enjoyed meaningful relationships with organisations such as the Amy Foundation in the Western Cape. 
The partnership with the AmyFountation started in 2021 when we were invited to the launch of their youth skills development programme. Sinethemba, the IkamvaYouth Nyanga branch coordinator, is an AmyFoundation alumni and he  facilitated the partnership between IkamvaYouth and AmyFoundation. The partnership started off by placing four (4) 2020 matriculants from the Nyanga branch. We are proud to announce that for the Class of 2021 we have placed ten (10) from the Nyanga and Gugulethu branches. The partnership is growing daily and  we are also looking to have more of the branches placing their learners there. This partnership is essential to our mission of ensuring our learners access dignified livelihoods through education. –Western Cape District Manager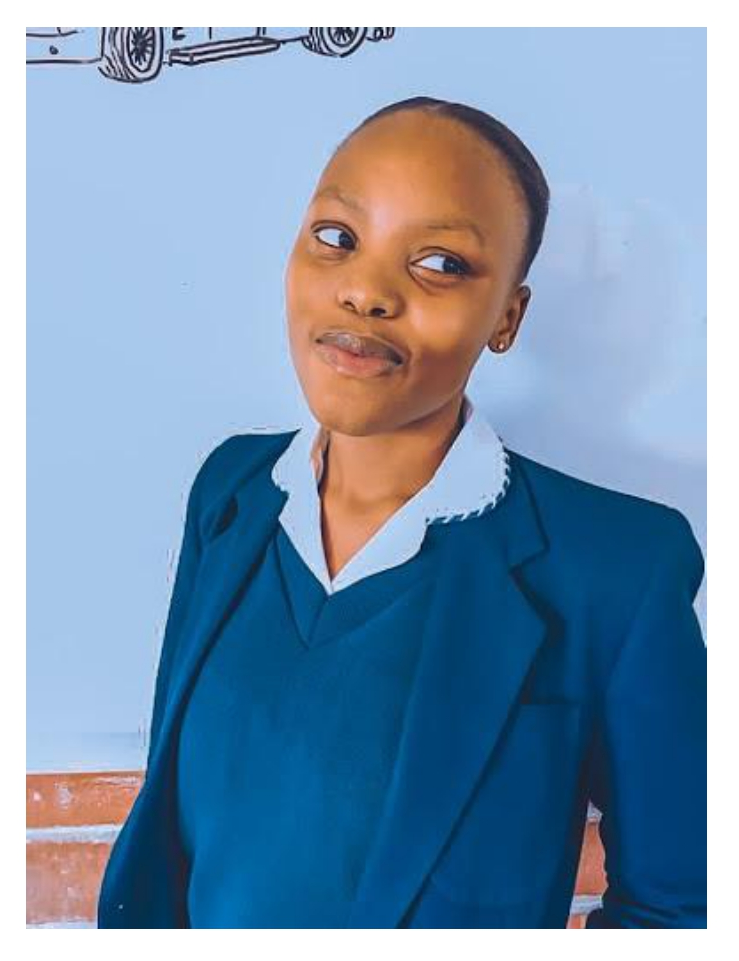 Anele joined the IkamvaYouth Chesterville branch as a grade 9 learner in 2018 and completed her matric in 2021. She obtained a bachelor pass and 3 distinctions in IsiZulu, Business Studies and Life Orientation. Anele is furthering her studies at Rhodes University and pursuing a career in Business Science. 
Ikamva Youth has played a major role in my achievements, they helped me with online tutoring during the COVID-19 pandemic and once restrictions were relaxed I was fortunate to get internet access for my assignment that needed research from the branch. IkamvaYouth assisted me to  prepare for my exams and also gave me motivation to study hard. IkamvaYouth not only provided academic support but emotional and mental support also. 
I am grateful to the IkamvaYouth staff and tutors for being a great support system and helping me to navigate through my high school and assisting me to curve my career path. 
We wish the class of 2021 great success. Our work continues as we support the current matric cohort with applications.