By Maria Sikaundi – Gauteng and North West District Manager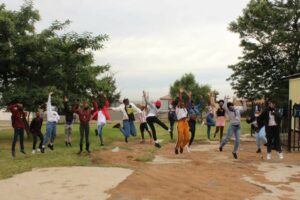 We did it again! – Our Gauteng and North West Matric Results Update.
Our Grade 12s' moto for 2020 was #2020isnotcancelled. They went on to prove it with their stellar results.
IkamvaYouth Gauteng branches achieved an 89% pass rate for the matric class of 2020. We are also proud to share that 85% of the cohort are eligible for tertiary opportunities, with 55% achieving a Bachelor's pass allowing them eligibility for university entrance compared to the 45.1% Gauteng province statistic.
Our Diepsloot branch achieved an impressive 100% pass rate, Ebony Park achieved 90%, Mamelodi 88%, and Ivory Park achieved a 72% matric pass rate. To top it off, all four Gauteng Branches collectively achieved 68 distinctions
Lapane, one of our Diepsloot branch top-performing learners obtained admission to the University of the Witwatersrand, to study a BSc in Computer Science. He achieved a Bachelor's pass with 5 distinctions in Mathematics, Physical Sciences, Life Sciences, English and Life Orientation. He had this to say:
I joined IkamvaYouth when I was doing my grade 10 and have not looked back ever since. Comparing my results from before I joined the programme, there is a huge difference. The concepts I used to find difficult I have now perfected and even help my peers. I would like to give thanks to the IkamvaYouth team at the Diepsloot branch for their contribution in making the programme a success. The norm in my community is not for success, so investing in IkamvaYouth is investing in a community like mine, giving us hope of a better future, we really appreciate their support. In 2021, I will be joining our team of great volunteer tutors. I want to give back to my community and contribute to the academics of those that come after me. A word of advice to the 2021 matric cohort is; Do work hard, but also work smart. Do what you need to do to ensure that your results are what you have envisioned from the moment you found out that you passed grade 11.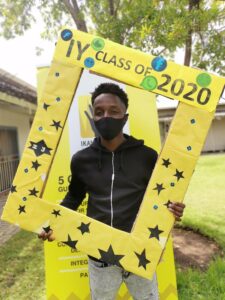 Our North West branches, Ikageng and Mahikeng followed suit. The cohort obtained an average pass rate of 92% and 68% eligibility for tertiary. The matric class of 2020 at the Ikageng branch achieved a 100% pass rate. We are proud that since the inaugural matric cohort at the Ikageng branch in 2014, the pass rate has remained consistently over 80% through the years.
Our Ikageng Branch Coordinator, Ntombi Mahlangu had this to say about the amazing results: "Congratulations to the matric class of 2020 for an amazing job staying positive through this challenging time of COVID-19. It is the amazing work of our volunteer tutors and various stakeholders that carried us through the national lockdown in encouraging learners' persistence, determination, and resilience. We are geared to support learners to enroll in tertiary institutions and go on to succeed in their respective workplaces. Each year IkamvaYouth expands access to tutoring support for more learners. It is the type of impact that not only changes the lives of the learners but of their families and future generations. In 2021, we continue our efforts to support learners who complete the 2021 academic year successfully. We wish the class of 2020 all the best as they embark upon their further education and career journey!".
Our Gauteng District Manager, Maria Sikaundi had this to say "Our staff worked hard to keep the online tutoring groups a conducive learning environment encouraging the learners to engage on a daily basis, and ensuring the learning culture remains supportive and safe for the learners to thrive. We worked with various stakeholders to facilitate workshops focused on health and life skills and psychosocial mental support in our online groups. These groups discussed how to stay physically and mentally well during the pandemic, how to deal with stress, time management, and spot depression symptoms. Inevitably, there are some who failed or did not fare as well as expected, it is important for the learners to understand that poor matric results are not the end of the world. We want to encourage friends and family to constantly check-up and offer support to them and encourage them to come to the branches to register for supplementary exams or upgrade their marks and of course tutoring support. We are extremely proud of all the Ikamvanites for persevering in a challenging 2020".
All branches are currently helping learners who have passed with checking their university, internship, learnership and college application status and providing information about other post-school opportunities still available.
We wish the 2020 Matriculants all the best as they step into the world of tertiary and other post-school opportunities. You will always be part of the IkamvaYouth family.