IkamvaYouth has partnered with organisations providing after-school tutoring in various communities within the Western Cape and Gauteng. Through the Community Collaboration Programme (CCP) we provide programmatic support and training to organisations with the aim of building a sector of effective after-school programmes.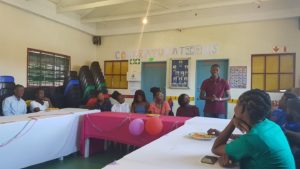 In January we announced that CCP class of 2018 achieved a whopping 90.4% matric pass rate with 81% eligible for tertiary. We are now even more excited to announce that we have achieved a placement rate of 79%:
64% of the class of 2018 has been placed into post-school opportunities
55% are studying at a university or college
6% are in employment
3% are in learnerships and short term training
15% are improving their matric results through supplementary/ upgrading programmes
21% are currently considered not in education, employment, or training (NEETs)
Out of 210 learners supported by the twelve organisations through CCP, 114 accessed tertiary institutions across South Africa. Furthermore, our matric learner numbers increased by a hundred learners in CCP, resulting in a 4% increase in placements since 2017. This highlights the growth and impact of IkamvaYouth's Community Collaboration Programme in continuously creating a collaborative learning space to implement structured and effective programmes which benefit our learners in accessing various post-school opportunities.
In addition to the academic support provided to learners, our partners also assist with preparing our future leaders for life after matric by sharing available opportunities and platforms such as job portals. This is to ensure that Ikamvanites are aware of all possibilities, that they are equipped with adequate information to assist them in making informed decisions about their future.
One learner from Phakamani Young Minds Academy (PYMA) in Gauteng, Soweto had the following to share:
"I joined PYMA in 2017 because I was struggling with my grades. I would attend every afternoon class so that I could be helped with subjects like Mathematics, Physical Science and Geography because I was struggling in them. The academy was so helpful because it made my grades improve and I was supported to apply at various institutions. This year I will be attending at South West TVET College to study an Electrical engineering course. When I got my confirmation letter from the institution early February I was thrilled and will be starting in the second trimester.
My favourite quote is  I Will Persist Until I Succeed because it motivates me to never give up, no matter what obstacles I may come across in my life. What lead me to succeed in my matric year is that I always had support from my family and most of all PYMA because it would enforce pressure on me that I must study very hard if I want to achieve my goals and it also implemented extra lessons for myself and others learners so that we can have enough time to study and understand what we were being taught. For that, I would love to give a warm thanks to PYMA for always being my pillar of strength in the two years I spent being their learner."
We look forward to more excellence in 2019.