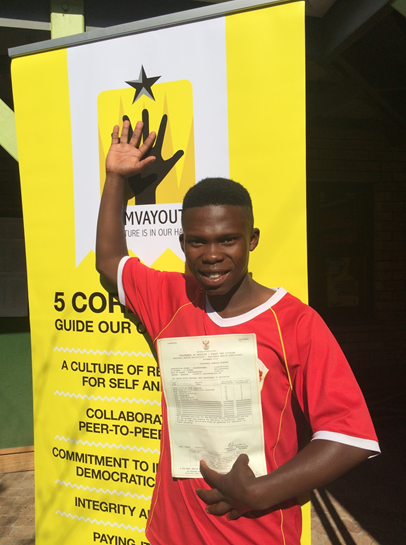 Western Cape learners & tutors at the close of our two-week intensive tutoring during June holidays (Winter School).
IkamvaYouth branches in the Western Cape Province achieved a matric pass rate of 77%, of which 37% are Bachelor passes, and 27% are Diploma passes. 102 learners were enrolled in three branches.
The Nyanga branch came out tops this year with a 90% matric pass rate. A whopping 52% of those who passed also obtained Bachelor passes, while 29% obtained Diploma passes.
The top learner at the Nyanga branch is Kamvalethu Willie who obtained an average of 73%. He also received a distinction for Economics and will be studying towards a BCom in financial accounting at UCT with a full bursary from SAICA. Kamvalethu has been attending tutoring sessions at the branch for five years and had this to say when asked how he managed to keep coming for all those years: "I realised that the help I get is really important and Ikamva is a really nice place to be. It's nice for me because whenever I achieve something they encourage me. I feel welcome here and it's like a second home."
Kamvalethu Willie from Nyanga
The Masiphumelele community lives up to its name, which means "let us succeed". In the December of 2015 yet another fire ripped through the community leaving many people homeless. Four months into 2016, the community was still trying to recover from the losses and rebuild their lives. Furthermore protests in the community, against crime, had a significant impact on learners' attendance at school and tutoring. It's under these circumstances that the Masiphumelele cohort of Matrics started their year. Regardless of all this, Ikamvanites in Masiphumelele were able to achieve an 80% Matric pass rate with 33% of the learners achieving Bachelor passes and 30% with Diploma passes.
Nicolas Commeignes, the Branch Coordinator in Masiphumelele had this to say about the results,"It is an absolute delight to celebrate learners' successes, especially since we have been overcoming hurdles together and sharing great achievements for almost 4 years now. Through the programme, learners gain maturity and feel more equipped to leave the location and community they grew up in. What has struck me time and time again is that they never forget IkamvaYouth as they always come back to visit; support their families and inspire the younger generation"
One of the top achievers at the Masiphumelele branch is Samkele Hokwana who obtained a Bachelor pass and would like to pursue a degree in Medicine or Mechanical Engineering and says "It's a matter of days for me to take a new step in life". On how he achieved his success, Samkele had this to say, "In order to succeed, you have to capitalise on the resources available to you. For example, if I acquired more knowledge while working within a group of classmates, I would focus on that."
Samkele Hokwana from Masihumelele
Makhaza is home to IkamvaYouth's largest branch, with 41 learners who sat for the 2016 Matric exams. For the 2016 Matric exams the branch achieved a 66% Matric pass rate where 29% of the learners obtained Bachelor passes and 24% with Diploma passes.
Aphaphame Mzayiya is one of this years top achievers at Makhaza and he will be studying filming and video technology at CPUT. He obtained two distinctions in Geography and History and had this to say about his results,"Finally getting my results has been a relief; it's been one long holiday anticipating what the future holds. Now I know for sure I will flourish in my field" Aphaphame has come to be known as the resident poet and entertainer and is excited about the field of study he has chosen, "I learnt about IkamvaYouth through a video on YouTube. I then immediately visited the branch. That has been the best decision I made."
Aphaphame's advice to the upcoming Grade 12 class is to "just study while others are sleeping."
The Makhaza branch didn't perform as well as expected, given its impressive track record of results over the last 11 years. Thankfully, most of the learners who failed are eligible for supplementary exams, and will be receiving intensive support in the lead-up to these second-chance exams. Access to learners has been a major challenge for the branch this year, as learners have had to attend compulsory extra classes at school. IkamvaYouth is hoping to forge a partnership with schools and districts similar to that in the North West Province, where collaboration between the government and the NGO maximises scarce resources in serving learners' individual needs,and yielded a 90% matric pass rate for Ikamvanites in the region.

IkamvaYouth had matrics writing in ten townships across five Provinces, and learners achieved an overall 85% pass rate; 69% of which are either Bachelor or Diploma passes, ensuring their eligibility for tertiary studies.
About
IkamvaYouth is a non-profit organisation, enabling disadvantaged youth to pull themselves and each other out of poverty through education. The organisation provides free after-school tutoring, career guidance, mentoring, computer literacy training and extra-curricular engagement to learners in grades 8-12. The organisation is currently operating in 16 townships in 5 provinces across South Africa. To find out more, go to www.ikamvayouth.org or call Hetile on 062 105 1707